(Posted Friday evening - Jan. 4, 2019)
The stock market surged today to its highest level yet in the (take your pick)
Counter-trend rally
2.  SUCKER's rally or
3.  Beginning of a new leg up for the market.
And just for laughs, the rally at day's end stopped DEAD ON the 2532 level for the S&P 500 I (and others) have pointed to as likely initial resistance.
Here's what I sent out earlier this morning, before Fed Chairman Jerome Powell revealed that there is a "Powell put" after all:
Jan. 4, 2019 -- Finally...a change in sentiment we can act further on_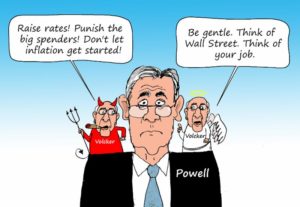 After we heard from Chairman Powell and the early rally accelerated, Cory and I recorded a fresh podcast, which you can access RIGHT HERE.
To be sure, we still need some progress where China is concerned. . .some peace on the budget, wall funding and other matters between President Trump and House Republicans would help too.
And Powell didn't forever take rate hikes off the table, IF things get ripping higher again.
BUT at the least we have seen over the last two days now, as I pointed out, evidence that some investors are realizing that they can and should participate in this new two-way market.