(Mailed Dec. 12, 2018) --
     Now that I am settling back in at home after an overwhelming latest trip to Ecuador (stay tuned for MUCH more on that!) I'll be catching up on a lot over the balance of a rapidly-shrinking 2018.
     First and foremost, we need to get our heads around just what kind of an overall market landscape we are dealing with. And that's been a moving target. Even with this week's two trading days so far, we've seen swings of several hundred Dow points within the day.
     About the only 
seemingly
 certain thing, as I have been discussing for many days, is that 
the Fed will now be, at worst, in "one and done for now" mode
. As I discussed among other things on 
YESTERDAY'S PODCAST
, they probably will still hike short-term interest rates one last time when they meet next week. 
But they'll also confirm they will thereafter effectively be in "pause" mode.
      The trouble is, other things are going on that have so far thwarted what might have been a nice "Santa Claus rally" as a result of the Fed's virtual "180." Most of all has been the resilience of the U.S. Dollar. 
     That has kept a nascent rally for gold hemmed in even as the other half of The Odd Couple--Treasuries--have screamed higher.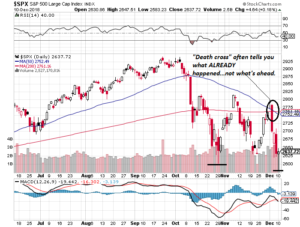 And the broad stock market has stayed on the back foot. Monday, as you see above, the S&P 500 actually plunged through the first of its major support levels--2603--before righting itself. The real last line of defense in a down turn is 2532; that, of course, the correction low from earlier this year.
     All of the above are going on as markets worldwide remain hostage to several issues: everything from the trade row with China, to the unraveling Brexit, to the E.C.B.'s budget battle with Italy, etc.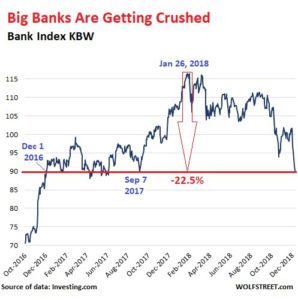 And as I pointed out yesterday, the underlying economic dynamics have been slowly but steadily deteriorating. It's a reason (together with the flatter yield curve, of course) why bank stocks have looked every bit as much like a dog's regurgitated breakfast as have commodities. That doesn't speak well to the basic strength of the economy; more so, to expectations that business activity and profitable lending will bounce back from their weakening of recent months.
     To be sure, global trade uncertainties have exacerbated this. And if there really is some breakthrough in the key U.S. - China trade relationship, we will almost surely see large rallies in risk assets, especially the bombed-out commodities.  Why, those financial stocks might even go along for the ride, too!
     But even such a hoped-for event won't change the fact that the credit cycle globally has run its course and has peaked. This is yet another reason why the dollar remains near its 2018 high--and commodities on the back foot--despite the softened stance by the Fed.
     So we need to be of a mind that rallies, when they do come--and hopefully, barn burners for a while if all goes well with China especially--may well be ones we need to get into and then trade out of.
     In my final mailings of this year (and in early January) to Members I'll be picking up these themes, and--where it's wise and/or necessary--changing up some recommendations. Amid this I am guardedly optimistic that we may especially see some sharp (albeit mere months-long, perhaps) gains in energy and basic materials. This may be more the case as tax loss selling for many of these has added insult to injury and--as often happens--set the stage for BIG gains in early 2019 that may be in store.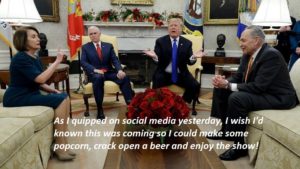 Whether a possible government shut down throws things off further remains to be seen. This morning's early rally (chiefly, on a bit more conciliation on the trade war front) is taking some of the sting away from yesterday's entertaining show from the Oval Office. In the past, fleeting government shut downs have impacted markets relatively little in the grand scheme of things; we'll see what happens this go-round if the president carries through on his threat.
     Whatever the outcome of all these things, it sure won't be dull!   
     So, stay tuned for more goodies. . .
     And as always, if you have any questions or comments, let me know.