As I have discussed on my recent podcasts as well as in some recent e-mails and commentaries, my view that the overall stock market is nearing a peak does not mean that there are not compelling individual stories out there for investors. Indeed, with the market's behavior of late still favoring momentum names, the FAANG stocks and the like, many value-oriented companies--not to mention emerging "story" stocks--aren't getting much "love." Inevitably that will change, as it always does!
Whether in bull or bear markets, long-term profits for individual investors have always primarily come from discovering and buying good companies when they are cheap.  We have been doing more of that recently in a variety of industries.
Additionally, I always have my eyes open for more speculative--but promising--companies with compelling stories.  It is seldom an established "name" that comes out with the next great innovation; more often, it's a company the average investor never hears about until the cat is out of the bag. My job is to find these companies before the crowd. . .do my homework. . .and pass the opportunity on to my audience.
In this missive I want to pass along to you a company I have already recommended to my Members here at The National Investor; one working on one of the most disruptive new technologies for medical devices in many years.
* RECOMMENDATION* 
Imagin Medical (CSE--IME; OTC--IMEXF) 
Recent price  -- C$0.12 or US$0.093
________________________
On the home page of its web site, Imagin Medical has billed itself as a medical device and--more so--technology company that, ". . .will establish a new standard of care in detecting cancers and visualizing the surgical field in minimally invasive surgery. . ."
As you will be reading below, urologists who have been looking forward to just this kind of breakthrough in efficiency agree; and are putting their own money into Imagin!
As I have rolled up my sleeves and come to get to know Imagin better in the recent past (after only cursory looks on a few occasions previously) Imagin--which intends to initially focus on bladder cancer-- seems to have an imaging technology and platform that is at the same time revolutionary . . .yet quite simple and common-sense.
Surgical practices have advanced tremendously over the years with advances in technology and know-how. For many procedures, it was once common to open up a part of the body--say, an abdomen--and take care of what needed to be done. Among the things this meant was a longer hospital stay and a longer time to recover and heal following such an invasive procedure.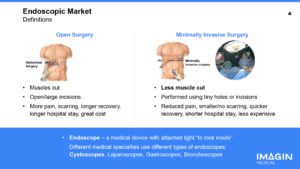 For almost everything, this has been replaced by minimally invasive surgery (MIS.) Advances in optical technology especially have effectively allowed small cameras mounted on endoscopes to be inserted in the area of the body in question; whether to take out cancerous tissue, repair a hernia or what have you. Once the necessary procedure has been identified via the endoscope (which comes in many shapes and sizes, but all of which pretty much work on the same principles) the procedure can also be accomplished more simply than in the past. Sometimes, surgical and related instruments can use the same smaller opening the endoscope did; after all, the need has been lessened with these optics to have to open someone up and "have a look."
In light of this, I'm sure you won't be surprised to learn that, globally, nearly $50 billion a year is spent on endoscopic procedures. This is not always to treat maladies or to eradicate cancerous tissue, but sometimes to confirm that further medical attention is not needed.
Where bladder cancer is concerned--the single most-expensive cancer in North America to treat--more than $4 billion per year is spent in the U.S. alone just on bladder cancer surveillance using the current generation's imaging technology.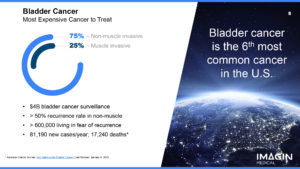 _______________________
It is in this area that Imagin is focusing its technology to make this surveillance--and what the patient has to endure--easier and more efficient.
 ____________________
When I first had the opportunity to visit at some length recently with Jim Hutchens--the C.E.O. of Imagin--I was surprised to learn how in one sense the current technology and products in the market can often fall far short in easily and accurately identifying some cancers and tumors. Indeed, Hutchens quipped that "It is shocking to me how archaic it is," meaning the relatively primitive, now, optics and lighting used to "see" bladder cancer and tumors.
Basically (and I'm going to give you the Cliff Notes version of this for now,) the white light and endoscope combination used to visualize a target area within the body--while great at identifying       protruding  cancerous tissue--doesn't always pick up tumors that can lay flat, let alone are underneath the bladder wall lining, etc.

Some manufacturers now produce endoscopes with a blue light filter. There is still the same white light source, but with a blue filter which--after a patient has had administered a contrasting agent that takes an hour to get into the bladder and ostensibly identify all the cancerous tissue--supposedly allows a surgeon to "see" all the cancer better.
But even here there are shortcomings. Aside from taking an hour or so for the agent to make the cancer identifiable to a surgeon, that surgeon must still manually switch from white light to blue to see the cancer area; depending on the equipment, by using two different sets of monitors.
This exacerbates a sad statistic where bladder cancer is concerned: and that is, an average of 50% of patients have a recurrence. Better technology and a better regimen than the above would increase the chances that the job is most efficiently done right the first time.
Imagin believes it has the disruptive new technology that will change the way cancer has been detected--again, starting out with bladder cancer--for about 40 years now with relatively little in the way of advancement. In fact, so dramatically will this make current detection easier, faster and yet far more efficient at the same time, that Hutchens is confident the company can impact a big part of the market ultimately and exploit this "low hanging fruit."
Basically--and I urge you to spend some time doing your own homework on the company's web site--https://imaginmedical.com/ --where you will learn of all this in far greater detail--Imagin's developing i/Blue Imaging System is one that "reads" what current imaging technologies via endoscopes on the market see with both white light and blue filters, yet combines that in one output.
That enables a surgeon to most effectively see on one screen (without having to go back and forth) the cancer in order to best be able to eradicate it and help reduce the chances of recurrence. Better still, the improved optics of this system and its whole process needs just 15 minutes from the beginning for a surgeon to be able to start, versus an hour now.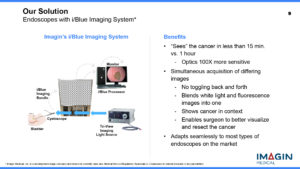 Just as important, this regimen allows a surgeon to see what's going on in real time. He/She is not going off of memory of what was on the last screen as he/she goes back and forth, and attempts to operate in between screen glances. Everything is right there on one output.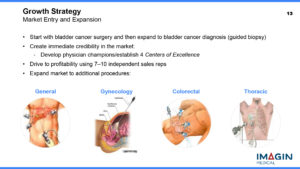 MOVING ON WITH DEVELOPMENT AND TOWARDS COMMERCIALIZATION
Eventually, Imagin hopes that a breakthrough in its offering for application to bladder cancer will provide the launching pad not only for commercialization of the iBlue System for that, but for other areas as well where state-of-the-art imaging technology is in some cases long overdue.
A key milestone for the company was announced on July 17 as it moves through its research and work on product optimization. Imagin announced (I'd encourage you to read the full press release at https://imaginmedical.com/wp-content/uploads/2018/07/Press-Release-7-17-17-Research-Study-Progress.pdf) favorable results in the 10-subject investigator-sponsored research study being conducted at the University of Rochester Medical Center using the i/Blue Imaging System. This checks off another box as Imagin works toward the development of a commercially-viable product.
Said the company's President and C.E.O. Jim Hutchens in announcing this latest successful step for the company, "While a backorder on certain component parts needed to make system adjustments during the URMC Research Study caused some delay, we are obviously very pleased with the outcome. This is an exciting time. We believe that the i/Blue Imaging System holds great promise for improving physicians' ability to detect cancer and visualize the surgical field where endoscopes are used. To that end, we look forward to updating our stakeholders as we progress."
The takeaway from the URMC Research Study: Fluorescence was successfully demonstrated in 15 minutes, confirming that the i/Blue Imaging System will potentially allow physicians to "see" bladder cancer significantly faster than the full hour or more required by currently available imaging technology. On the heels of these favorable results, Imagin continues to work on overall product design and optimization.
Even while the URMC Research Study was still ongoing, Optel, Inc.--Imagin's opto-electronic design firm partner--has been working against three phases of development: Proof of Concept, Functional Unit and Verified Unit. Of the three phases, the Proof of Concept phase has now been completed, verifying the performance of the two critical optical modules of the i/Blue Imaging System - the light source module and the imaging module. Jay Eastman, Ph.D., C.E.O. of Optel, stated, "The lessons learned from the URMC Research Study has provided valuable technical data, clinical insight and physician feedback that is significantly influencing the design of the i/Blue System. All of this information continues to increase our confidence that the miniaturization, imaging quality and cost reduction goals for the i/Blue System important to surgeons performing bladder cancer procedures."
Besides the issue of 15 minutes' time to begin work for a surgeon/urologist bringing in far more efficiency that current methods, there's something else: That is, Imagin hopes a successful development and commercialization will bring the iBlue System into practitioners' offices as well.  Just as time and money have been saved over time (all else being equal, of course, in our otherwise expensive health care system!) so, too, would a urologist prefer--especially in initial examinations and follow-ups--to have such a state-of-the-art and quick system on hand outside the operating room.
     ELITE COLLABORATION WITH OPTEL; AND JAY EASTMAN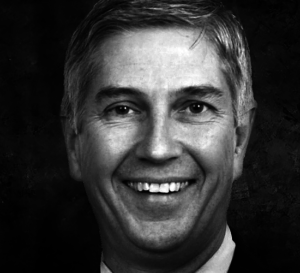 It's hard to overstate the importance of C.E.O. Hutchens and his team joining forces with such an elite company as Optel--http://www.optel-inc.com/.
Notably, Optel is headed up by Jay Eastman (left). You might recognize that name, especially if you, as I am, are from upstate New York and know the histories of the legendary companies that made that state their home, such as Eastman Kodak.
Jay--in part in working with Imagin to help bring this disruptive technology to the endoscopy market--continues the family tradition in these kinds of technologies. He carries on  the family tradition of being a ground-breaker in optical technology and related fields. You can learn just a bit about Jay in a quick video interview at  https://www.photonics.com/v27/Jay_Eastman_Optel_Inc and  https://newyorkphotonics.org/personnel/jay-eastman/, which will give you some biographical information.
For present purposes, Imagin seems well-positioned to use its protected Intellectual Property (specifically where i/Blue is concerned, in its process for that simultaneous/parallel acquisition of images and combining them into one) to first exploit that "low-hanging fruit" of the bladder cancer area. Indeed, a confident Hutchens mentioned to me that, "This market is really ready. . .they know they're behind."
Imagin and Optel, it should be noted, are furthering these patents that have been obtained from California's prestigious Lawrence Livermore Lab.  Though these time lines are fluid due to numerous factors, my present belief is that Imagin will be imminently submitting the necessary documents to the Food and Drug Administration in advance of an anticipated first "sit down" with the agency later in the Fall. That, in turn, should pave the way for a more defined pathway to final product development and commercialization.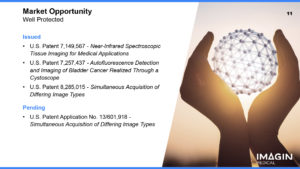 MANAGEMENT TEAM WITH A PROVEN TRACK RECORD OF SUCCESS IN THIS INDUSTRY
What's especially nice to know here--apart from the success reported on July 17 and the collaboration with Optel--is that this is "not the first rodeo" for the Imagin's management. Looking at the success of Hutchens and others in the medical equipment space over time--and that added heavyweight name/stature of Dr. Eastman in the optical space--makes Imagin a compelling story of a potential breakthrough technology being shepherded forward by experienced hands.
Burnished by his own background with the likes of Boston Scientific on the medical side of things and with venture capital fund experience as well, Hutchens also has Imagin Medical's bank account for its clinical, development and other work topped up following its most recent and oversubscribed private placement that closed this Spring.  Further, he has bolstered research staff to strengthen the process/development prior to meeting with the F.D.A. as well as in anticipation of making the hoped-for approval process stronger.
Among other key people, Imagin recently announced that it had hired Pam Papineau as Director of Regulatory Affairs. Ms. Papineau has over 30 years' experience in quality and regulatory affairs with Baxter, Boston Scientific and Cogentix (Vision-Sciences), and has served as a consultant on a wide variety of devices that includes endoscopy, imaging, GI/GU, orthopedic and cardiovascular. She has successfully prepared dozens of FDA premarket submissions and European Union (EU) technical files. She will work with Hogan Lovells, Imagin's highly-regarded legal Counsel specializing in this area, as they prepare for that pre-submission meeting with the F.D.A. and follow-on activities through the regulatory approval process.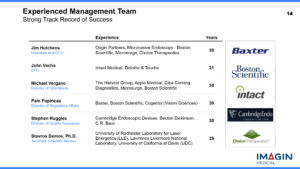 A COMPELLING INVESTMENT OPPORTUNITY!
By their nature, companies involved in most any kind of early research such as this are deemed to be speculative. Until Imagin has an approved product(s) and the game plan/means to begin selling it to the industry, the company will essentially have no revenues, let alone profit. Thus--as much as I think this is a compelling story--even an Imagin Medical is not a company that you put your grocery money into.
That said, there certainly does appear to be a great potential reward here to go with the usual risk. As of this writing, Imagin has a market cap of a tiny C$18 million, or about US$14 million. Compare that against--first--the US$4 billion market on bladder cancer scoping alone; not to mention that--if successful here--Imagin may well be poised to proceed to disrupt the market for the other $46 billion or so of the global endoscopy market!
Apart from all the preceding, my own confidence in adding Imagin Medical to my list of recommended companies was bolstered when I learned that--in another oversubscribed private placement late last year--the investors included Dr. Stan Swierzewski, Chief of Surgery & Director of Urology at Holyoke Medical Center in Massachusetts, and Dr. Roger Buckley, Division Head of Urology at North York General Hospital in Toronto. To say the least, when the potential customers for Imagin's iBlue System are so excited about what it will do for them and their patients that they want to invest in the company personally, it's a vote of confidence the likes of which you don't always see!
Said Dr. Swierzewski publicly about his investment decision,
         "As a practicing urologist, I invested in Imagin because I have a duty and responsibility to advance any improvements in treatment and technology that will benefit my patients and save lives.   Current technology is cumbersome and time consuming, taking a full hour of prep time as opposed to 10 minutes, making it less effective as a screening or follow-up tool. Bladder cancer patients are basically monitored for life with in-office cystoscopies which are not effective in differentiating between inflammation and cancer. To be safe, we perform surgery on many patients which often  turns out to be negative. Imagin's i/Blue technology, given its potential speed and sensitivity, will help us assess the patient's condition more quickly and accurately and avoid unnecessary surgery. It  will also make necessary surgery more successful, ultimately saving lives and reducing medical expenses. I'm confident that using the i/Blue system will become the standard of care. I look forward    to the Research Study results and I cannot wait to use this technology in treating my bladder cancer patients."
            This is all why Imagin Medical is rated as a "BUY" in The National Investor! 
I will, of course, have ongoing updates on the company as warranted, whether in my twice-monthly newsletter or, as appropriate, any of my between-issues shorter alerts. For more information, you can visit me at https://nationalinvestor.com/
_______________________________________
A Reminder. . .
HOW TO PURCHASE SHARES OF IMAGIN MEDICAL IF YOU ARE A U.S. INVESTOR USING A U.S.-BASED BROKERAGE ACCOUNT
For those of you who are not already used to buying shares of companies such as Imagin Medical that are listed primarily in Canada, I want to give you a quick and easy "tutorial." It's MUCH easier than you think, if you have never done so, to buy such companies in any U.S. brokerage account. Indeed, as I have explained in one of my investor tutorials, it's just as easy and inexpensive to buy shares in an Imagin Medical as it is to buy Apple!
Many larger Canadian and other foreign companies have primary listings on more than one major exchange. For those listed on the New York Stock Exchange or the Nasdaq as well as Toronto, you need only buy/sell using the U.S. market. Generally, there would be no reason to check prices and such on the Toronto Exchange first.
More often than not, smaller companies--for both cost and logistical reasons--do not list their shares on a major U.S. exchange. But they are still easily tradable in the U.S. via the Nasdaq's OTC Market. All you need to know is the company's symbol; unlike most U.S.-listed companies, it will always be a five-letter symbol ending with an "F."
In Imagin Medical's case, its ticker symbol in the U.S. is IMEXF, while on the Canadian Securities Exchange (CSE) it is IME. (NOTE: The CSE in Canada is the functional equivalent of the U.S. OTC market.)
The main consideration in buying shares of Canadian stocks via the OTC market is that sometimes--if you look at the OTC quote first--you are not getting as fresh and accurate a price as you would if you went to the Canadian Exchange. This is because with most, the majority of their activity is on the Canadian market where it is listed; sometimes hours can go by between trades on the OTC, if the company you're looking to buy isn't actively traded at the time. Thus, you simply need to insure, via a simple process, that you are neither overpaying for a stock when you buy it, nor getting less than you should when you sell.  That is easy to accomplish.
The most reliable and current quotes for shares of companies such as Imagin are to be found first on the Canadian Exchange where they are primarily listed.  Prices and volume activity are updated all through the trading day on the Toronto Exchange, TSXV and the CSE (again, the equivalent of the U.S. OTC market), just as they are on the N.Y.S.E. or Nasdaq, and are generally fresh/instantaneous.
I will use the following example to show the simple process that will normally take you LESS THAN TWO MINUTES to enter a trade to buy Imagin's stock via the OTC market in the U.S, in a typical U.S.-domiciled brokerage account:
First check the Canadian quote for the company, via its ticker symbol on the CSE, IME.  You'll find this at the Exchange's web site, http://thecse.com/.  Plug in "IME." We'll say for purposes of this lesson that the current asked price for IME's shares is C$0.12, or 12 cents per share in Canadian currency.
Next determine what that price is in U.S. currency.  If you don't follow exchange rates on a daily basis, you can get a fresh picture by going to Kitco's web site, at www.kitco.com (or your own favorite one that lists currency differentials; there are many.) Near the bottom of Kitco's front page, you will find a table of various currency exchange rates. At this writing the Canadian dollar, rounded off, is worth 77.2 cents in U.S. currency.
Do the math as to what IME's U.S. asked (selling) price on the OTC market should be:
C 12 cents per share  X  .772   = US 9.3 cents per share.
Finally, enter a LIMIT ORDER to buy the number of shares of Imagin you want in your U.S. brokerage account at or very near that price.  Personally, I would first start with that US 9.3 cents per share. If the order doesn't fill right away, bump it up by a tenth of a cent once or twice until it does (these days, most online brokers will allow you to use tenths of a cent in pricing.)You would use the company's 5-letter symbol, which is IMEXF.
It's that simple! And, of course, you would do much the same thing when it was time to sell some of your holdings. But in the case of a sale, you would focus on the bid price listed on the CSE's site for the company in question.
As always, if you have any comments or questions, let me know!