(From, in part, the July 16 Issue of The National Investor) -- In this week's new issue I explained the reasons why--given inflation percolating some and despite the flattening yield curve--we would likely hear from Fed Chairman Powell during his Congressional dog-and-pony show that the Fed's "normalization" program--what I have referred to as its game of Monetary Jenga--remains on course.
We haven't been disappointed!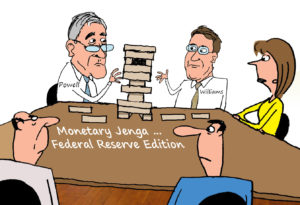 Indeed, in some respects Powell was more firmly hawkish than even I had expected. As I discussed on Tuesday's podcast (after Powell's visit with the Senate Banking Committee was already well underway) he is downright oblivious to the damage that the strong dollar is causing emerging markets.  Indeed, he waxed almost as bullishly optimistic on "economies abroad" as he is on the U.S. economy.
You can listen to that podcast at http://www.kereport.com/2018/07/17/powell-front-congress-drop-gold/
Tuesday and Wednesday both, he also made clear he has NO intention of any pre-emptive pausing or easing of the Fed's tightening quest because of the evolving trade war.
So in short, expect the Fed--which out of Powell's own mouth, as I write in the latest issue, is as animated about keeping markets in check as much as anything--to keep raising short-term rates every calendar quarter as advertised. . .until, most likely, they "break something."
For an excerpt from the latest issue on these thoughts, read: